Thursday May 24th, 2001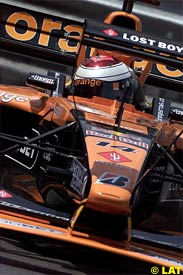 The Arrows team was the talk of the day on Thursday due to their new radical aerodynamic device introduced for this weekend's Monaco Grand Prix.
The Leafield-based team presented for today's free practice session a bizarre elevated 'nose wing' placed on top of the car's front wing, in the hope of increasing the amount of downforce generated at the slow Monaco circuit.
Their performance, however, was not much improved by the new aerodynamic components, as Dutch driver Jos Verstappen ended the day in 15th place. Though Arrows are still unsure whether they will continue to use the new nose wing, Verstappen was confident for the rest of the weekend .
"That was a really interesting session," said Verstappen. "We had lots of new parts to try and we've now got a lot of information to go through which is great. We did a lot of laps and it's all looking pretty good so I am confident we have a good weekend ahead of us."
Enrique Bernoldi, in his first Formula One race at the Monaco track, was only 18th fastest in the second Arrows, but the Brazilian admitted he was happy with his day's work.
"We got a lot of set-up work done today, including trying out the tyre compounds and scrubbing tyres for later on," said Bernoldi. "The circuit changed a lot throughout the two sessions but we made a fair bit of progress.
"There's still room for improvement though so I'm going to sit down with the engineers now to decide where we go from here. I'm pretty happy though overall."
---