Thursday May 24th, 2001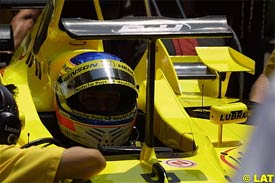 Italian driver Jarno Trulli claimed his Jordan team had still a lot of work to do before Saturday's qualifying despite a trouble-free day where he set a promising fifth quickest time in practice for the Monaco Grand Prix.
The Silverstone-based team, currently lying in fourth place in the Championship, introduced a new aerodynamic solution in order to increase downforce at Monaco. The Honda-powered EJ11 included a new wing that was attached right in front of the driver, and Trulli said the results were positive.
"We have a lot of work to do; the balance on new tyres is not really good at this point," said Trulli. "We worked on race set-up and I have to say it seems pretty competitive so we need to look at the data now and see what we can do for qualifying on Saturday.
"We tried the body-mounted wing later on and it felt okay. But we need to check the telemetry and see if it is worth running on Saturday. It's difficult to tell at this stage."
Trulli's teammate Heinz-Harald Frentzen, who has had problems with his launch control system in the last two races, was happy with his progress after setting the seventh fastest time. The German driver decided not to test the new wing on his car, and hoped for a clean start on Sunday.
"A good day's work for Thursday at this circuit," said Frentzen. "We didn't have any major problems which meant we were able to do a lot of work on the set-up. I'm pretty happy so far. I didn't test the extra wing last week, so I didn't run it today.
"At the end of the session, they allowed us to do a practice starts on the actual starting grid. It's a good thing to be able to do that here because the starting grid is very narrow and no one wants to stall on Sunday."
---