Thursday May 24th, 2001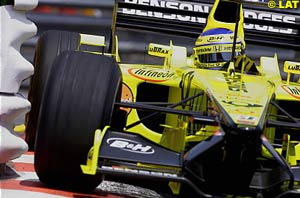 New aerodynamic devices used by Arrows and Jordan on the front of their cars at the Monaco Grand Prix are potentially dangerous and will not be allowed, Formula One's ruling body said on Thursday.
Jo Bauer, the International Automobile Federation (FIA's) technical delegate, said he had examined the devices used by both teams in Thursday's practice for Sunday's race and believed them to be against the rules.
"I feel that this constitutes a dangerous construction as described in article 2.3 of the 2001 Formula One technical regulations," he said in a statement.
Stewards considered Bauer's report and declared that the cars would be excluded should the devices be used again. Qualifying for Sunday's race is on Saturday. Both teams have the right to appeal.
Arrows practised with a large front wing arrangement positioned vertically on two uprights on the front nose of Dutch driver Jos Verstappen's car and designed to create more downforce. The Jordan had a slimmer T-shaped arrangement positioned immediately in front of the driver.
Verstappen told a news conference before the stewards' decision that the device seemed to make some difference to the car's performance.
"You can still see very well and it doesn't disturb the view so it's fine," he said.
Others were taken by surprise by the devices.
"I think it's very clever to be honest," said Colombian Juan Pablo Montoya of the Arrows' wing. "I've never seen anything like it before. It's a bit like the old days."
---