Thursday May 24th, 2001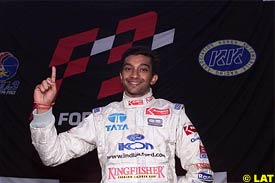 Narain Karthikeyan will become the first Indian to drive a Formula One car when he test drives for the Jaguar team next month.
Karthikeyan will test with Jaguar in the middle of next month at Silverstone, a statement from Ford said on Thursday. The Indian, who participated in the British Formula Three championship last season, currently races in the Formula Nippon championship in Japan.
Karthikeyan was first scheduled to test with Jaguar in December last year as part of his contract with the Stewart Formula Three team, now called Jaguar Racing. But the test was twice postponed and a third appearance in March was ruled out because of Karthikeyan's commitment with Team Impul in preparation for the Formula Nippon season.
Looking forward to the test drive, Karthikeyan said: "As the goal of my lifetime is in sight, I feel exhilarated and a little nervous.
"But I know that all that I have trained myself for over all these years has been leading up to this moment. I owe to myself to succeed," the statement quoted him as saying.
---