Thursday May 24th, 2001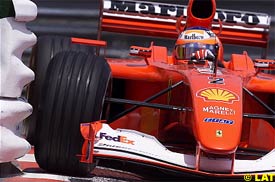 Brazilian Rubens Barrichello is not number two driver at Ferrari, but Michael Schumacher's success has made him the team's priority, sporting director Jean Todt said on Thursday.
Todt was asked at a news conference whether there was any modification to Barrichello's contract after it was announced on Tuesday that the driver had signed for another season alongside world champion Schumacher.
"We have exercised an option, so that means the contract was already written," he replied. "The only thing we had to write was confirmation that we were exercising this option, so that's it.
"Rubens is not number two. The thing is that since Michael and Rubens comprised the team, most of the time Michael has been in front and being in front, he has put himself into a priority situation."
Barrichello was forced to obey team orders at the last race, the Austrian Grand Prix, moving over on the last lap while in second place to allow Schumacher to go past. The German has 42 points, four clear of McLaren's David Coulthard in the championship while Barrichello has 18 after six races. Todt said that the situation could change in the future.
"(If) Rubens or Michael's teammate is consistently in front of Michael, Michael will have to help the team and his teammate. That's the way it has been, and that's the way it will be in the future."
Barrichello's contract runs out at the end of next year while Schumacher has been signed up through to the end of 2004. Todt said Schumacher was one of Ferrari's key people, while Barrichello was "good for the team."
Schumacher did carry out a supporting role in 1999 when he broke his leg in a crash at Silverstone and Eddie Irvine was left as Ferrari's only title contender. The German moved over for Irvine in that year's Malaysian Grand Prix before the Briton lost out eventually in the championship to McLaren's Mika Hakkinen.
---