Thursday May 24th, 2001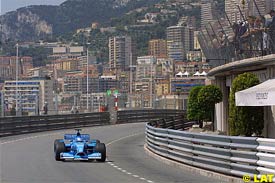 The Benetton team seemed to see the light at the end of the tunnel after a much improved performance in today's practice session for Sunday's Monaco Grand Prix.
Both Giancarlo Fisichella and Jenson Button, who have been struggling at the back of the grid since the start of the 2001 season, were able to move forward at Monaco, where engine power is not as important as on other tracks.
The radical Renault V10 engine is thought to be one of the main problems of the team, but Monaco, one of the slowest circuits of the calendar, allowed Fisichella to post the 11th fastest time, and the Italian was happy with the result.
"We worked a little bit on the set-up, which helped us find more traction and grip," said Fisichella. "Given recent results we are quite happy with our position today. It will be fantastic on Saturday if we can qualify somewhere within the first six rows. As always, we are doing our maximum."
Button, however, was unable to match his teammate's pace, being 17th fastest nearly two seconds behind Fisichella.
"I know we can do better and I'm pushing as hard as I can to get there," Button admitted. "Our performance has picked up today, compared to recent races, and I think we have a better basis from which to make progress. If anything, my chassis was perhaps set a bit too low today but we will sort that out for qualifying."
"It's unusual today," explained Button about the big time differences seen today. "Normally people push harder on Saturday and you get more happening then, but today some were pushing hard and others were not. That's why so much discrepancy in times today."
There were only five cars slower than Button, and with Pedro de la Rosa unable to set a realistic time the remaining four were all drivers making their debut on the circuit.
They have little experience and, to Button, that is a key to success around the streets of Monaco.
"Experience helps so much, especially here," he said. "Last year I got some experience and I hope for more this year.
"It's a nice place to drive but it is very tough. You can't make any mistakes at all - kerb, gravel or dust and you hit the wall. It's just mad here with barriers everywhere at every angle all coming at you in a rush."
---