Friday May 25th, 2001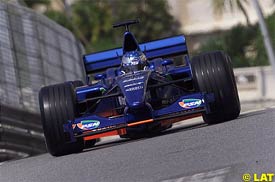 Prost driver Jean Alesi has backed teammate Luciano Burti, who finished 19th in Monaco's first free practice session, as an "honest and quick" driver.
The Brazilian, who drove for Jaguar in the first four races of the season, was well down on the timesheets as he drove a Formula One car for the first time around the tight Monaco circuit.
Alesi has confidence in Burti's ability, but said he has not changed his attitude to racing since the departure of former teammate Gaston Mazzacane.
"In the past I have had a lot of teammates," said Alesi, who on Thursday set a promising eighth fastest time in practice for the Monaco Grand Prix. "And as long as the teammate is honest and quick then everything is okay - and he is like that.
"But I am not doing my lap times or my input in the race against my teammate, I am just trying to get the best that is possible to really push my car."
The Prost team are yet to score a point this season and Argentine Mazzacane was ditched after just four races.
---