Friday May 25th, 2001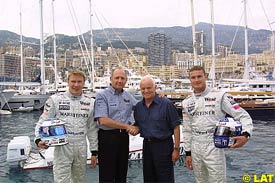 The McLaren Formula One team claimed a record in sports sponsorship on Friday by announcing a five-year extension to their partnership with fashion brand Hugo Boss.
"The 2001 season marks the 20th year together for Boss and McLaren and the extension, signed today, makes it the longest ever sponsor/team partnership in the history of international sport," the team said in a statement.
Boss chief executive Werner Baldessarini explained the importance of Formula One for his business.
"The media coverage and lifestyle which Formula One and McLaren attract has significantly contributed to developing Boss's global presence and are an excellent medium for maintaining our image and profile," he said.
No financial details were given.
---