Friday May 25th, 2001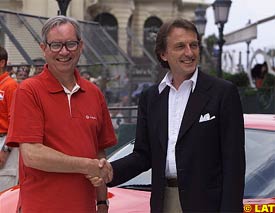 Mobile telecommunications group Vodafone will sponsor Formula One champions Ferrari from 2002 in a three-year deal announced on Friday. No financial details were given by either side but paddock sources at the Monaco Grand Prix speculated on a figure of around $50 million a year.
"We like backing winners," said Vodafone Group chief executive Chris Gent, appearing at a news conference with the team's triple world champion Michael Schumacher and Brazilian driver Rubens Barrichello.
He called the deal a "substantial" commitment for a company which also sponsors English premier league soccer champions Manchester United, the Australian World Cup winning Wallabies rugby union side and the England cricket team.
Gent said Formula One would give the British-based group, which has a customer base of 83 million people over five continents and 29 countries, even greater exposure on a world stage.
"This sport is the most viewed sport in the world. It's a very important deal for us, it's a good deal for us. It represents good value for us over the years ahead," he said. "Customers will identify with this sport more than any other and there is no greater team than Ferrari."
Vodafone replace TIM, the mobile telephone company owned by Italy's Telecom Italia, as one of the team's three major international sponsors. The others are title sponsor Marlboro, the cigarette brand owned by tobacco company Phillip Morris, and oil company Shell.
Vodafone's brand will appear on the cars' sidepods, nose and front wing as well as on the drivers' overalls and helmets. Gent said Vodafone had discussed sponsorship with two Formula One teams but did not name the other.
He said the group would provide mobile communications facilities for Ferrari but also additional services linked to the Italian team's internet project.
"Ferrari have considerable plans for developing its internet story," he said. "That is one of the key areas where we intend to go forward ... to help the internet plans that Ferrari have."
Ferrari president Luca di Montezemolo said Vodafone's main markets overlapped with Ferrari's geographically and the brand also fitted in with the team's historical colours.
"The Vodafone colour is red and red is still the most important colour of our history, our present and our future," he said.
---