Saturday May 26th, 2001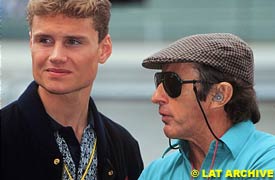 Three times World Champion Jackie Stewart has joined the chorus of paddock pundits who openly call the McLaren team to impose team orders, supporting David Coulthard's WC challenge this season.
Speaking at Monaco, Stewart said: "McLaren cannot afford to give anything to Michael Schumacher. He is the man to beat. If Ferrari are focusing on him, then McLaren have to do the same with David Coulthard if they want to beat Schumacher in the race for the Championship. McLaren have to give David priority now.
"Mercedes have lost the drivers' and constructors' titles to Ferrari and it is vitally important to them that they get them back. David offers them the best chance of doing that."
Stewart went on to commend Coulthard, whom he had signed back in 1991 for his F3 team, for his performance so far this year, saying the Scot is now in prime.
"I believe David can win it," Stewart said. "Mika has had a bad turn of fortune and David has driven extremely well - he just has to keep his focus. David was always capable of doing the job, winning races and earning poles. But there appeared to be a drop in concentration - that has now been eliminated.
"He will make mistakes but he has to keep them to a minimum, though you cannot drive flawlessly throughout the season. But, David has the focus. He has acquired the focus of life."
---