Saturday May 26th, 2001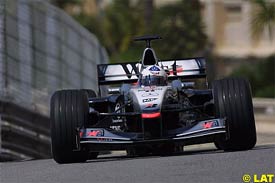 A charging David Coulthard secured the 12th pole position of his career as he usurped title rival Michael Schumacher on his final fast lap as the pair line up alongside each other on the front row in Sunday's Monaco Grand Prix.
Coulthard edged out Ferrari driver Schumacher in a fascinating battle that also saw Mika Hakkinen briefly move into provisional pole. The Finn was eventually forced to settle for third place on the grid ahead of Brazilian Rubens Barrichello.
Ralf Schumacher will begin fifth in his Williams with the impressive Eddie Irvine sixth after a superb performance for Jaguar. Arrows duo Jos Verstappen and Enrique Bernoldi were first out on track and Jacques Villeneuve followed them out, but Irvine eclipsed the performance of the trio as he put his Jaguar on provisional pole.
Hakkinen, however, emerged early and his scintillating pace resulted in the pole time being reduced by more than 1.4 seconds. The Finnish driver's advantage lasted just minutes before Coulthard took almost half-a-second off his teammate.
Schumacher and Barrichello appeared to challenge the McLaren dominance but the German world champion pitted without making a flying lap after running up an escape route after failing to allow Bernoldi, who was on a fast lap, through.
Schumacher should have bettered Coulthard's time but a lackluster final sector from the Ferrari driver cost him and minutes later Coulthard dropped his time by another tenth.
Hakkinen, however, became the first driver to post a sub-one minute and 18 second lap in Monaco as he powered back to the top of the timesheets. And Ralf Schumacher then posted the third quickest time as he relegated brother Michael to fourth.
Schumacher blasted Hakkinen's pole time with 19 minutes remaining of the session when he went more than three-tenths quicker and his former Ferrari team-mate Irvine moved up to fifth after an impressive lap in his Jaguar.
With 15 minutes remaining Barrichello moved up to third behind Schumacher and Hakkinen, and Fisichella produced his best performance of the year for Benetton as he jumped up to ninth. Frentzen spun on new asphalt as he approached the tunnel on his final run and abandoned his car after stalling his Jordan.
Pos  Driver        Team                    Times                 
 1.  Coulthard     Mclaren Mercedes   (B)  1:17.430  156.683 km/h
 2.  M.Schumacher  Ferrari            (B)  1:17.631    +    0.201
 3.  Hakkinen      Mclaren Mercedes   (B)  1:17.749    +    0.319
 4.  Barrichello   Ferrari            (B)  1:17.856    +    0.426
 5.  R.Schumacher  Williams BMW       (M)  1:18.029    +    0.599
 6.  Irvine        Jaguar Cosworth    (M)  1:18.432    +    1.002
 7.  Montoya       Williams BMW       (M)  1:18.751    +    1.321
 8.  Trulli        Jordan Honda       (B)  1:18.921    +    1.491
 9.  Villeneuve    BAR Honda          (B)  1:19.086    +    1.656
10.  Fisichella    Benetton Renault   (M)  1:19.220    +    1.790
11.  Alesi         Prost Acer         (M)  1:19.245    +    1.815
12.  Panis         BAR Honda          (B)  1:19.294    +    1.864
13.  Frentzen      Jordan Honda       (B)  1:19.316    +    1.886
14.  de la Rosa    Jaguar Cosworth    (M)  1:20.033    +    2.603
15.  Raikkonen     Sauber Petronas    (B)  1:20.081    +    2.651
16.  Heidfeld      Sauber Petronas    (B)  1:20.261    +    2.831
17.  Button        Benetton Renault   (M)  1:20.342    +    2.912
18.  Alonso        Minardi European   (M)  1:20.788    +    3.358
19.  Verstappen    Arrows Asiatech    (B)  1:20.823    +    3.393
20.  Bernoldi      Arrows Asiatech    (B)  1:21.336    +    3.906
21.  Burti         Prost Acer         (M)  1:21.771    +    4.341
22.  Marques       Minardi European   (M)  1:22.201    +    4.771

All Timing Unofficial

---