Saturday May 26th, 2001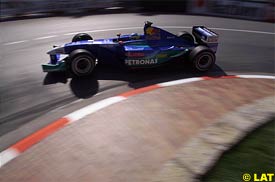 The Sauber team were unable to continue with the impressive form shown in the first six races of the 2001 season, as both Kimi Raikkonen and Nick Heidfeld struggled during Saturday's qualifying session for the Monaco Grand Prix.
Sauber have enjoyed one of their best seasons in Formula One so far, scoring twelve points which have allowed them to be only six behind the Williams team in third place in the Championship. However, at the Monaco circuit, the Ferrari-powered C20s were unable to shine.
Finn Raikkonen, making his debut at the tight street circuit, was fifteenth fastest on today's session, and claimed that though the Swiss team improved the car's handling, he could not have gone much faster.
"We made the car better but it was still not quick enough, particularly in the hairpins," explained Raikkonen. "I had a lot of traffic this afternoon, and a yellow flag on my last run, but even without all that and with all my best sector times added together, I don't think I would have gone a lot quicker. A difficult day for me."
Heidfeld was again outqualified by his less experienced teammate, the German suffering a mechanical problem that saw him losing two of his four runs.
"I did one run early in qualifying with my race car and it felt better than it did on Thursday and this morning, but then I encountered a throttle problem on my second run," said Heidfeld. "It was something electronic, so we tried to fix it.
"I did another run but the problem was still there, so that meant I had lost two more sets of tyres already without doing any timed laps. I changed to the T-car, did one lap, hit some traffic, and then had one final lap with the tyres past their best. On that one I got a yellow flag, so that was it. Horrible!"
---