Saturday May 26th, 2001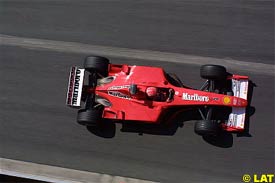 World Championship Michael Schumacher admitted he was happy after today's qualifying for the Monaco Grand Prix despite rival David Coulthard stealing pole position in the final seconds of the hour-long session.
Schumacher, who leads McLaren's Coulthard in the standings by four points after six events, complained about traffic problems during his first run, and admitted he was unable to complete a perfect lap.
The German, whose Ferrari used a new front wing at Monaco, made a mistake during his final lap and was forced stop on the track. The three-time world champion, however, remained positive for Sunday's race.
"I had to abort my first run as both Arrows were driving around without using their mirrors," said Schumacher. "In qualifying here, it is important to be running at the end, as the track is quicker then. My penultimate run was not perfect and then I had the incident at Le Portier on the final lap.
"I just turned into the corner too early and touched the barrier on the inside. I am happy to be on the front row, although I would rather be on pole. However, David did a better job today. I never got a perfect lap today. I am looking forward to the race, because I think it will be very open."
Teammate Rubens Barrichello was fourth fastest today, the Brazilian constantly improving throughout the session to eventually finish only two tenths of a second behind Schumacher despite losing time on his final run.
"This morning I had a few problems setting up my car," Barrichello said. "After practice, I worked with the engineers to improve the situation and I had a much more competitive car in qualifying.
"I am satisfied therefore, even though I am not starting from the front row, which is more of an advantage here than on other tracks. I flat spotted my front right tyre on my last run at the first corner, which cost me some time."
---