Saturday May 26th, 2001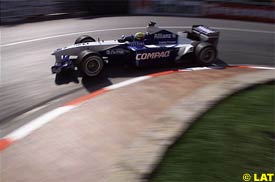 Williams drivers Ralf Schumacher and Juan Pablo Montoya were happy to be able to start tomorrow's Monaco Grand Prix from the clean part of the track, but fifth and seventh positions were a bit of a disappointment for technical director Patrick Head.
"We are fifth and seventh, which is not an ideal place to start the Monaco Grand Prix," said Head. "Unfortunately Ralf was held up on his last lap, but whether Ralf would have improved or not is a different matter. Anyway it is a long race tomorrow and we will be aiming to make the best of it."
Schumacher, who suffered a massive accident on Thursday and had to rest at home on Friday, was pleased with the result achieved today and claimed he could have gone faster if not for the traffic.
"This is a pleasant qualifying result for me given that we always have had quite a difficult time on such twisty circuits," Schumacher admitted. "I think a place on the second row could have been possible but on my last lap I was held up by Jenson Button, who was being held up himself. The good thing is fifth means I am going to start on the clean side of the track."
Colombian Montoya, making his Grand Prix debut at the Monaco circuit, was also happy with seventh place on the grid after crashing out on Thursday.
"It wasn't such a bad qualifying after all, as I thought it was going to be a lot worse," Montoya said. "We have changed the car a lot for qualifying and it really improved. I think if we had started qualifying with the car's set-up the way it was when we finished we would have been much better off.
"During the weekend we have been a bit behind, so it was difficult to catch up, It is the same place I started my Formula 3000 race so it could be interesting."
---