Saturday May 26th, 2001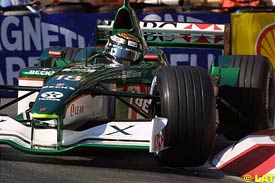 The Jaguar team received a morale boost on Saturday after Irishman Eddie Irvine qualified in a season-best sixth position for Sunday's Monaco Grand Prix.
The Milton Keynes-based team, who are still yet to score a point this season, introduced a new a aerodynamic package for the seventh race of the season, and Irvine made good use of his car's improved form to place himself on the third row of the grid for tomorrow's race. Irvine was delighted, but the Ulsterman remained cautious.
"That is about as good as it gets," said Irvine. "The car ran perfectly, the team did a great job and I got four clear laps. The new aerodynamic package has given us the edge that we needed to get closer to the front runners. I love this place.
"This circuit has always been good to me and to have put the car on the third row is absolutely fantastic. We must, however, remain realistic. It's all very well qualifying P6 here but we now need to translate this performance into a points finish and then make it work at other circuits.
"It's a great morale booster for everybody especially the team back at the factory who have worked so hard over the year so far. Let's hope this is the change of fortune that we've been hoping for."
Spaniard Pedro de la Rosa was not so lucky, having to settle with a poor 14th place more than 1.6 seconds behind his teammate. De la Rosa paid the price after completing only nine laps in Thursday's practice session.
"This was about playing catch-up for me," said de la Rosa. "I lost most of Thursday's Free Practice time and I tried very hard to make up for that today. Each time I went out, I posted a quicker time apart from the last run.
"The team did a good job and I'm pleased with the way we are progressing. The changes that have been made to this team are now beginning to manifest themselves and there's still more development to come."
---