Saturday May 26th, 2001
By Alan Baldwin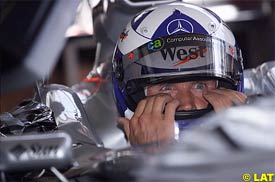 David Coulthard crossed his fingers, tapped wood and refused to tempt fate on Saturday when he faced questions after taking pole position for the Monaco Grand Prix.
The McLaren driver grimaced at one enquiry as to whether his greatly improved form this season - he is second in the championship after six races - was due to the Scot learning to make fewer mistakes.
"This question has got a tempting fate, touch wood written all over it, hasn't it," replied Coulthard, who is four points adrift of Ferrari's champion Michael Schumacher on the eve of one of the trickiest races on the calendar.
"I think that naturally both Michael and Mika will hope that this will be the weekend when I make a mistake." Coulthard's Finnish team mate, two times champion Mika Hakkinen, has scored just four points so far after regularly overshadowing his colleague in past seasons.
The Finn is on the second row, behind Coulthard, for Sunday's race on a tight and twisting circuit that can exact a heavy punishment for the slightest misjudgment as cars roar within a whisker of the metal guardrails.
Even Schumacher, four times a winner in Monaco, renewed his acquaintance with the unforgiving barriers late in Saturday's qualifying session. Coulthard, with two wins under his belt in 2001 and two pole positions, has made the best start to a season in his career so far. He also won in Monaco last year.
Experience Counts
On Saturday he took pole with a faultless and fastest lap ever recorded on the street circuit. "I think with experience you learn a little bit about when it's just not sensible to try and push, you know when you've got problems and sometimes you just have to accept that that's the way it's going to be," he said.
"I can't say with 100 percent confidence I've learned particularly when that is yet, especially going into the Monaco race," he told a news conference with Schumacher and Hakkinen sitting alongside.
"We all make mistakes, all three of us sitting here and all the other guys out there that have made mistakes this year. It's just whether you make them at critical times or not. You have to expect that during the season you are going to have a reliability problem at some point and you are going to drop the ball at some point."
Coulthard has made some mistakes this year already, notably in Spain where he qualified third fastest but then had to start from the back of the grid after stalling in the warm-up. But he has managed to take points in every race, the only driver to achieve that feat, and rescued his day in Barcelona by climbing through the field to fifth place.
Admittedly, he was moved up the order there by Hakkinen's clutch exploding on the final lap while the Finn was leading. Hakkinen has also made more highly-publicised mistakes this season, stalling twice on the grid with the last incident officially put down to driver error by his team.
---