Saturday May 26th, 2001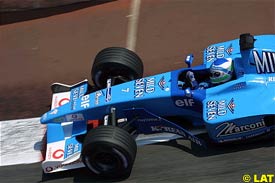 Italian Giancarlo Fisichella endured his best qualifying session of the year to put his struggling Benetton among the top ten in today's qualifying session for the Monaco Grand Prix, and admitted the team were finally happy.
Fisichella has struggled at the back of the grid for the last few races with the Renault-powered car, but his morale was boosted after qualifying tenth at Monaco, where he hopes to consolidate his promising performance.
"Finally we're happy," said Fisichella. "It's just great. Before coming here we did expect to be quicker than before but we certainly didn't expect to be 10th in qualifying. I had a feeling it would be good on Thursday, as I had a good balance with the car and everything felt right pretty.
"I did a fairly good job with the engineers on the balance and we had good grip mechanically. It is really encouraging for tomorrow as 10th is a good position to be in. I just have to make a good start and work from there. If we are lucky maybe we'll take advantage and score some points."
The Italian driver outshone his teammate Jenson Button who, despite being able to move up the grid, was more than a second behind Fisichella in 17th position.
"We didn't get to where we wanted to go on set-up today," admitted Button. "We were struggling a bit with the brakes this morning and that wasn't really solved during qualifying.
"Seventeenth is an improvement on recent races but obviously seeing Giancarlo up in 10th I know that we can work on what we have to be more competitive."
---