Saturday May 26th, 2001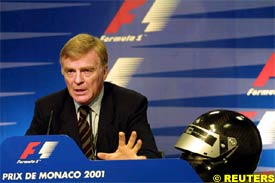 Formula One's governing body presented a new prototype race helmet on Saturday designed to offer significantly improved protection in a crash.
Max Mosley, the president of the International Automobile Federation (FIA), told a news conference that the specifications and blueprints would be given free of charge to any helmet manufacturer who wished to use them.
He said the crash helmet, developed by a team working under Formula One's chief medical officer Sid Watkins with a British transport research laboratory, was more effective than current ones available.
"It's a fairly remarkable thing because it is 70 percent more effective in an ordinary direct crash situation...the energy that it can absorb is 70 percent more than is the case with the currently available helmets.
"It's also more than 30 percent better than the currently available helmets in as far as penetration is concerned and up to 30 percent better in rotational injuries," he added at the Monaco Formula One Grand Prix.
Mosley said the helmet, with a very hard outer shell of carbon composite material, was also 15 percent lighter but should not be hugely more expensive.
"It really represents a major advance," he said.
---