Saturday May 26th, 2001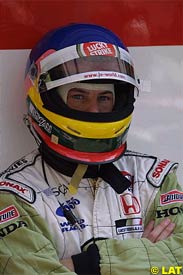 Jacques Villeneuve was ninth quickest in today's qualifying session for the Monaco Grand Prix, but the Canadian reckoned he could have done better after the hour-long session.
The British American Racing driver, who has never shine at the Monte Carlo circuit with a fifth place in 1998 as his best result, set the ninth fastest time today, more than 1.5 seconds behind pole sitter David Coulthard. Despite the big gap, Villeneuve was pleased..
"I am happy with my qualifying position because Monaco has always been difficult," confessed Villeneuve. "There was still some time left in the car. It was very good to drive today, very precise.
"We could have managed seventh which would have been a lot better for the race but ninth is acceptable and we could still get a good result here. I am looking forward to the race, especially the start."
Teammate Olivier Panis was down in 12th position, the Frenchman also claiming he could have gone faster if not for a mistake in his final run.
"The team did a good job yet again," said Panis. "I am happy with the car despite not being able to practice during the second session on Thursday.
"My last lap was the quickest one but I pushed a little too hard and made a mistake at the chicane just after the swimming pool and that no doubt cost me a few places on the grid. Jacques did a good job and we are very close again. Now we need to concentrate on doing a good job tomorrow."
---