Saturday May 26th, 2001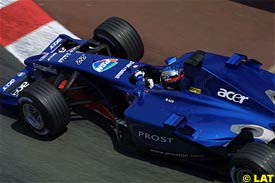 Veteran Jean Alesi was disappointed after qualifying eleventh for the Monaco Grand Prix, but the French Prost driver is confident the nature of the Monte Carlo race can help him more close to the points on Sunday.
Alesi, a specialist of the Monaco track, was unable to get inside the top ten despite promising practice sessions both on Thursday and Saturday, but hopes the race at the tight circuit allows him to score the first points of the season for the French team.
"After this morning practice, I was not completely satisfied with my car's balance and we continued to work on my set-up during qualifying," Alesi said. "I improved at each run but unfortunately in the last one, I touched the barriers in the tunnel, which cost me some places on the grid.
"I am obviously disappointed but starting in 11th place, everything remains possible in Monaco."
Brazilian Luciano Burti endured a difficult Saturday following a heavy shunt during practice due to a brake failure and was unable to recover from the lost time during qualifying. The 26-year old, as most of the drivers, complained about traffic as he made his way to a poor 21st position.
"It is clear that we had a difficult day," admitted Burti. "This morning, I crashed heavily in Sainte-Dévote due to a problem with the brakes. It destroyed my car and I lost the whole second session. Therefore in qualifying I had to run with the T-car. Anyway, I was trying to build up a set-up during qualifying and I improved a lot at each lap.
"Unfortunately I had traffic on the last one and I could not reach for a better position. Since we broke all the new bits on my car this morning, I will start with the old spec aero package tomorrow. At least the race will allow me to learn more about Monaco and I will do my best to run a strong race. "
---