Saturday May 26th, 2001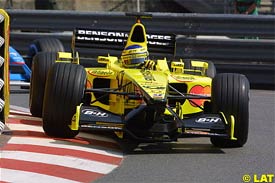 The Jordan team endured one of the most disappointing qualifying sessions of the season so far, with Italian Jarno Trulli setting the eighth fastest time while German Heinz-Harald Frentzen was thirteenth.
Jordan, who were forced on Thursday to remove an additional wing introduced for the Monaco Grand Prix, lacked the pace seen in past races, and Trulli admitted he was not happy with his car's handling.
"It was a very tough qualifying ­just as I expected," said Trulli. "I'm a bit disappointed, but I had a feeling from the morning that we weren't really, really competitive. Unfortunately, the car didn't feel that good with the tyres we ran; we knew that we were going to struggle because the car felt very nervous.
"Anyway, I'm on the fourth row and I hope to build a good race from there. As you know, anything can happen during 78 laps in Monte Carlo."
Frentzen, on the other hand, was happy with his car and felt he could have gone faster in his final run, but the German made a mistake and spun, having to settle with a place on the seventh row of the grid. Like his rivals, Frentzen hopes the high rate of attrition at Monaco helps him get a good result on Sunday.
"I was pushing really, really hard on my last lap," said Frentzen. "Unfortunately, I lost control going into Portier and I'm really annoyed about that. The car felt good to drive. Of course, I could have done with the extra set-up time lost this morning, but that's not an excuse; it's just that it didn't help too much.
"I obviously feel I could be further up the grid, so it's going to be a tough race. Finishing is a major challenge, never mind anything else, and I'm looking forward to it. You never give up until the end of the last lap here."
---