Saturday May 26th, 2001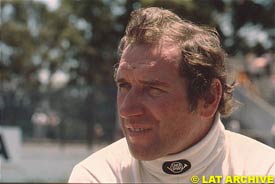 Retired Italian Formula One driver Vittorio Brambilla has died of a heart attack while mowing his lawn at home, ANSA and AGI news agencies reported on Saturday. He was 63.
Brambilla came to motor racing after an early passion for motorcycling and won just one race from 74 starts. But that one victory, coming at the wheel of a March in Austria in 1975 and at the late age of 37, was memorable.
The race was hit by a downpour and ended after just 29 of the 54 scheduled laps while Brambilla, regarded as a perennial runner-up, was leading Briton James Hunt's Hesketh. Brambilla celebrated his unexpected success by raising his arms in the air in jubilation, spinning the car into the crash barriers on the slippery surface.
He was a fast and furious driver who spent his first three years in Formula One with the March team founded by current FIA president Max Mosley among others. His brother Ernesto, known as Tino, raced with him in his early days in Formula Three.
Vittorio moved to the Surtees Ford team in 1977 for two seasons and then closed his career at Alfa Romeo. Apart from his victory, he also finished fourth once, fifth twice and sixth five times.
Pole Position
Brambilla also had one pole position at Anderstorp in Sweden in 1975, an achievement which made almost as much of a lasting impression as his victory two months later at the Oesterreichring. The March managed to lap faster than Niki Lauda's Ferrari, a remarkable occurrence for a car that had not finished higher than fifth that season.
Robin Herd, one of the team's co-founders, was quoted many years later in Britain's Times newspaper as hinting at a possible explanation. The team's post on the pit wall happened to be near the timing beam at the start-finish line.
"As we lent over the wall with Vittorio's pit board, it wouldn't have been too much of a problem to break the beam with it just before the car arrived," he said. "Whether we did or not, of course, I couldn't possibly comment."
Brambilla had several scrapes in his career, the most serious at the 1978 Italian Grand Prix at Monza when he was left in a coma for four days after being hit by a wheel.
Swedish ace Ronnie Peterson died in hospital the day after that pile-up in that same Grand Prix.
---