Sunday May 27th, 2001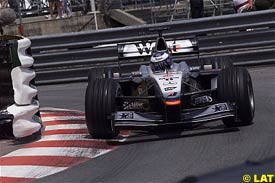 Two-time world champion Mika Hakkinen endured yet another nightmare race at Sunday's Monaco Grand Prix, where he was forced to retire with a mechanical fault again.
Hakkinen, initially running in second, had just been overtaken by Ferrari's Rubens Barrichello when he pulled into the pits on the 14th lap. He returned to the pits on the 18th lap to retire.
"I didn't hit any barrier or anything, it (the car) was pulling heavily on the right and it was too risky to continue," said Hakkinen. "The team is checking, it's a truly unusual problem."
After seven Grands Prix, the Finn driver has only scored four points while championship leader Michael Schumacher has 52 and Hakkinen's teammate David Coulthard 40.
---