Sunday May 27th, 2001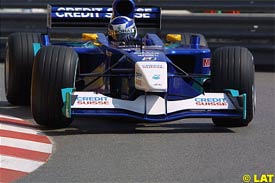 Sauber drivers Kimi Raikkonen and Nick Heidfeld were unable to improve on their poor qualifying performance from Saturday, and both endured a disappointing Monaco Grand Prix on Sunday.
After qualifying in fifteenth position, Raikkonen, who was competing at the Monte Carlo circuit for the first time, was forced to come into the pits on lap 15 when a wheel-speed sensor failed on his C20.
The young Finn climbed out of his car, but the team fixed the problem and he was able to rejoin the race, eventually finishing in tenth place five laps down.
"I really thought my race was finished when I had to stop at the pits on lap 15 while running ninth, but the team was able to bypass the problem so I rejoined five laps down," said Raikkonen.
"It was a shame because I really like the Monte Carlo circuit. It's very different. After my unscheduled stop I ran without traction control. The car ran trouble-free in the second part."
Teammate Heidfeld was unable to complete a single lap after he crashed into the barriers soon after the start, and team boss Peter Sauber blamed Arrows' Jos Verstappen for the accident.
"I am very unhappy about the first lap, when Verstappen caused the accident which put Nick Heidfeld into the wall," said Sauber. "Kimi Raikkonen had to stop so that we could switch to an emergency programme when a wheel-speed sensor failed on his car.
"He was able to restart, and despite not having traction control was able to set competitive lap times on his way to 10th place."
---