Sunday May 27th, 2001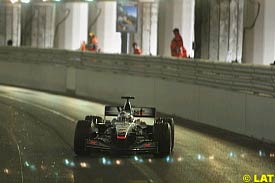 McLaren's David Coulthard claimed that the electronic problems that forced him to start the Monaco Grand Prix from the back of the grid should not have happened and said it cost him victory.
Coulthard stalled on the grid at the start of the formation lap and began the race from the back of the grid. He recovered to finish fifth and maintain his record of finishing in the points in every race this season but was disgruntled with the electronic problems.
"At the start of the formation lap there was a technical problem with the launch control, which stopped the engine," Coulthard said. "It's something we have tested a lot and it shouldn't have happened.
"Obviously I was frustrated when it occurred, but as a racing driver you have to overcome that and concentrate on getting the car started and get on with the race."
He added: "I was stuck behind Bernoldi for many laps and I was afraid that if I took a dive he might cut across and we would both end up in the barriers, so I had to be very patient.
"We have to look at the positives and once we were in the race, we had a quick and reliable car. I'm pleased to finish in the points but I wanted to win."
Mika Hakkinen exited the race during the early stages after an unusual steering problem left him with "no other option than to retire".
Hakkinen said: "I made a good start and was close behind Michael when all of a sudden the car just started pulling to the right.
"I went into the pits but the crew couldn't find anything wrong immediately and we decided to go back out. But the car was still behaving in a strange manner, and I decided that it would be impossible to go flat out."
---