Sunday May 27th, 2001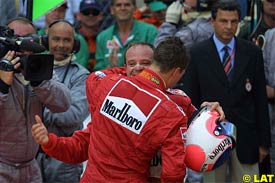 World Championship leader Michael Schumacher claimed an 'easy' win at Sunday's Monaco Grand Prix to extend his lead in the standings to twelve points over McLaren rival David Coulthard, who was only fifth after stalling his car on the grid before the formation lap.
With Coulthard being forced to start from the back of the field and teammate Mika Hakkinen retiring with a mechanical problem after only 15 laps, Schumacher cruised to victory without any threats from his rivals. The Ferrari driver, who is now twelve points ahead of Coulthard, admitted he was not moved after his win because the race was a straightforward affair.
"I was asked before why I didn't jump on the podium," said Schumacher. "Honestly, I don't feel that emotional because it has been a very straightforward win. It wasn't anything exceptional, nothing exceptionally happened through the race, which could make you emotional. It's always nice to win in Monte Carlo, it's always special, but then it was straightforward.
"It was an easy drive, but still hard work as it always is here. You have to do fast lap times and stay concentrated. I was thinking most of the time about reliability and at one point had a chat on the radio with Ross about the other people and he told me to keep up my concentration and that his heart was strong enough for another incident like I had in Indianapolis," Schumacher joked.
Rubens Barrichello completed a solid race to give Ferrari a 1-2 finish, but the Brazilian admitted his race was not as easy as his teammate's as he was affect by a cramp in his right foot.
"It started around lap 10 because the heel rest was loose. I was in a lot of pain and I could not feel the pedals," Barrichello said. "When I made my pit stop I banged the rest with my foot and that seemed to help as it got better at the end of the race and I was able to race normally at the end."
---