Sunday May 27th, 2001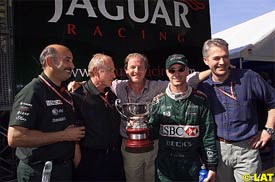 Eddie Irvine was delighted after scoring Jaguar's best ever result at the Monaco Grand Prix, where the Ulsterman finished in third place behind the Ferraris of Michael Schumacher and Rubens Barrichello.
Irvine, who has qualified in a promising sixth place on Saturday, benefited from the problems encountered by the McLaren drivers David Coulthard and Mika Hakkinen and returned to the points after a poor start to his 2001 campaign.
Today's result gives the Milton Keynes-based team the same amount of points achieved during the whole 2000 season, when Irvine also scored the team's best result - a fourth place - at Monaco. Now Irvine hopes the team can continue with their improved form.
"It's fantastic to be on the podium especially here," said Irvine. "To have two Ferraris and a Jaguar on the podium in Monaco is really what Formula One is about in a way. Monaco is a strange circuit. We've been quick here all weekend. Let's hope we can carry that speed to Canada."
Irvine admitted the new aerodynamic package introduced for Monaco made a big difference in the R2's performance.
"It made a huge step," he admitted. "I was four years at Ferrari and we never saw a gain of half of what we gained this weekend. It's a huge step. For sure it will be better in Canada but here it's all about downforce.
"Efficiency is very important in Canada and our efficiency isn't very good. This is a big step forward but it's still a reasonable step behind other people. If we go to Canada and we perform well there, it bodes well for the rest of the year because the two circuits are very different."
---