Sunday May 27th, 2001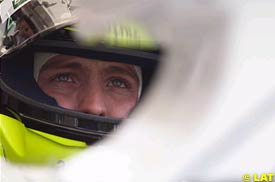 The Williams team left Monaco point-less after a frustrating race saw Ralf Schumacher retiring with a mechanical problem and Juan Pablo Montoya making a driving error during the initial stages which sent him into the tyre barriers.
Schumacher, who was running a solid race in third position behind the two Ferraris, was unable to keep the Italian car's pace, but was comfortably keeping Jaguar's Eddie Irvine at bay when he suddenly was forced to slow down and come into the pits to retire on lap 58.
"That I am disappointed is obvious," admitted Schumacher after his third straight retirement. "All of a sudden a warning light came on, shortly after that the power steering went and as I came into the pits I could not shift anymore. When I came to a halt the engine cut out."
Juan Pablo Montoya crashed out of the race on lap three while he was running right behind his teammate, after making a mistake in the swimming pool complex.
"I made a mistake and paid for it," Montoya said. "The car was good and I have nothing to complain about. The Michelin tyres worked well. My accident happened when I shifted down, lifted off, had understeer and crashed into the barrier."
---