Sunday May 27th, 2001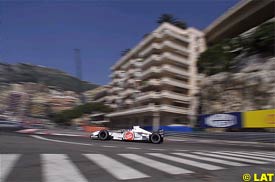 Canadian Jacques Villeneuve scored his best-ever result at the Monaco Grand Prix, where he finished in fourth position after what the Canadian admitted was a fun race for him.
Villeneuve, whose best previous result at Monaco was a fifth place with the Williams team in 1998, pushed hard during the final stages of the race in order to catch Jaguar's Eddie Irvine, but at the end he had to settle with fourth.
The 1997 world champion was pleased with his result and he now lies in sixth place in the drivers' championship with seven points.
"I am happy to have finished in the points," said Villeneuve. "It's always a tough race and an easy race to make a mistake in but we finished fourth with a car that was a little bit slower. We had a very good set-up this weekend and the team did a fantastic job.
"The car was good and precise and I could push with it all weekend. I kept pushing Eddie although I knew he had a quicker car but he didn't make a mistake. It's been fun."
Frenchman Olivier Panis, winner of the Monaco Grand Prix in 1996 with the Ligier team, retired on lap fourteen after spending a lot of time in the pits trying to fix an unknown problem on his Honda-powered 003.
"I am disappointed that my race ended so early," Panis said. "I am not sure what happened to the car. I was unable to steer through the slow corners so I had to make an unplanned pit stop.
"I came in so that the mechanics could check the car but when I rejoined I had the same problem. It's a shame as I really enjoy the circuit here at Monaco and I would have liked to have finished the race. However I am happy for Jacques and the team that he finished in the points."
---