Sunday May 27th, 2001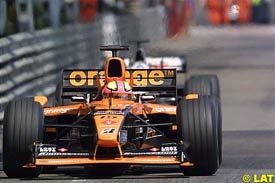 McLaren boss Ron Dennis has slammed the Arrows team and their driver Enrique Bernoldi following the Monaco Grand Prix, where the Brazilian held David Coulthard behind him for half the race as the Scot tried to recover from the lost ground after stalling on the grid.
Coulthard, who had been on pole, stalled at the start of the warm-up lap for the second time in three races due to a problem with the electronic 'launch control' software and had to begin the race from the rear of the field. The setback wrecked the Scot's hopes of taking the lead in the championship.
Coulthard clawed his way back to fifth, for two vital points, but he and his team were furious with Brazilian Bernoldi for holding the title contender up for half the race as they fought for 15th place. While they were scrapping, on the 27th of 78 laps, race winner Michael Schumacher lapped his main title rival.
Coulthard's team boss Ron Dennis spoke to the Brazilian afterwards, blasting Bernoldi for what he saw as unsporting behaviour. The Arrows driver said he was obeying team instructions.
"I told him I felt his behaviour was unsporting and not reflective of the attitude a young developing driver should be putting into his career," said Dennis.
"If that team is so desperate for television that it has to resort to those strategies then I somewhat question the behaviour of the team as a whole."
---