Sunday May 27th, 2001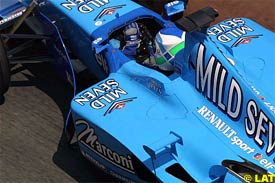 Italian Giancarlo Fisichella claimed a problem with the gearbox of his Benetton was to blame for the accident that stopped him from scoring any points at Sunday's Monaco Grand Prix after a brilliant performance from the Roman.
Fisichella, who has struggled with the Benetton team this season having scored only one point at the Brazilian Grand Prix, ran an impressive race until he crashed at Sainte Devote twice, the second time retiring when he was in fifth position. The Italian blamed the gearbox for his retirement.
"I hit the barrier at Ste Devote once because I had a brake problem, but then it happened again when my car stuck in gear," explained Fisichella.
"It was a shame because I felt really good throughout the race and we were competing for a top-six position again. The car was much better this weekend and I enjoyed my time on the track." Teammate Jenson Button was again unable to match Fisichella's pace, the young Brit complaining of oversteer before his pit stop, eventually finishing just outside the points in seventh place.
"Things felt quite good today," said Button. "In the first stint the car had a bit of understeer in the high-speed corners. In the low-speed stuff, on the other hand, we had a bit of oversteer. After the pit stop it felt better.
"It was good to finish a race in the top 10, even if it is a little frustrating to be just outside the points. But it was nice to be racing for something. It was good fun and I hope we can sort out the problems we have had recently in order to chase points at every race."
---