Sunday May 27th, 2001
By Timothy Collings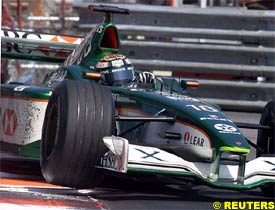 Three-times drivers world champion and team founder Jackie Stewart saluted the maturity and control of fellow Briton Eddie Irvine's drive to third place for Jaguar in the Monaco Grand Prix on Sunday.
Stewart, who sold his Stewart Grand Prix team to Ford, who re-named it Jaguar, said he was delighted to see Irvine claim the team's first podium finish after enduring a long and difficult period and much media criticism in recent months.
Irvine came home third behind the Ferraris of defending world champion Michael Schumacher of Germany and Brazilian Rubens Barrichello.
Stewart said: "It's the right place to get a result and Eddie drove with great maturity, not only in this race but throughout the weekend. He practised well, he qualified well and he raced well. You couldn't ask for more. He proved himself here by driving in a very controlled way so he was ready to take advantage of opportunities and to resist any pressure from Jacques (Villeneuve) at the end."
Stewart said Irvine had his own way of "going about the job" but agreed no-one would complain if he continued to drive and deliver the results as he did in Sunday's race when he took full advantage of a new aerodynamics package introduced by the team.
Irvine, accused of laziness and a lack of commitment by certain sections of the media, took Sunday's success as an opportunity to take a swipe at his critics with whom he has had a prickly relationship. In bullish mood, he told a news conference his successful result "reveals more about the level of journalism in the last couple of months than it does about me..."
Talking about the race and his placing, he said: "It's fantastic to be on the podium, especially here. To have two Ferraris and a Jaguar on the podium in Monaco is really what Formula One is all about.
"Monaco is a strange circuit, we've been quick here all weekend. Now we have just got to hope we can carry that speed on to Canada."
In the Jaguar team's statement, Irvine was quoted as saying: "We still have a way to go, but I am delighted for everybody who has worked relentlessly towards this major step forward. The car felt good all afternoon and I had a feeling on the grid that this race could result in a podium.
"Our new aerodynamic package is by far the biggest development I have ever experienced in Formula One. Many people have been quick to criticise us in recent weeks and some quarters of the media have not exactly been understanding towards the challenge we face.
"All I can say is that these individuals do not understand the enormous task we face and I take great pride in having done our talking on the track today."
---