Friday November 9th, 2001
By Alan Baldwin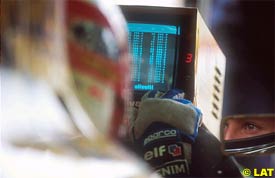 Jean Campiche inhabits a world of flickering screens, fast cars and split seconds.
His name will be unfamiliar to Formula One's many millions of television viewers yet the race images would be bewildering without the flow of data and timings that Campiche's equipment provides.
Results, lap records, jumped starts and infringements are recorded in a control center at every race at the heart of Bernie Ecclestone's digital television operations. It is a world that would make a NASA technician feel at home but that few fans ever see.
"You are at home, you are comfortable, you have your cup of tea, you watch TV and you don't imagine that there is all this technology behind it," says Campiche, the official Grand Prix timekeeper.
"Timing is not only to measure lap times today, it is effectively to give more measurements able to be used to give an interest to the TV viewers. With the development of television you need a better show and this is part of the show."
The 56-year-old Swiss, a former 500cc motorcycle Grand Prix racer, oversees the TAG Heuer timing operation at most of the 17 races.
Jumbo Jets
When the 2002 season starts in Melbourne in March, three Jumbo jets will be required to haul all the timing and television equipment to Australia. Some 38 km of wiring, almost as many timing technicians as racing drivers and 18 tons of equipment are needed at every race.
For European races, 26 gleaming Mercedes trucks, lined up at the circuit with their number plates in sequence, are used. The timing equipment can monitor times to one 10,000th of a second, although a mere 1,000th has been the standard for a decade.
Electronic spies are everywhere - there are sensors in the asphalt and antennae around the track - following every car's progress and contributing to television graphics. It is a far cry since the time Campiche started out with Ferrari in 1972, the year after Tag Heuer linked up with that team.
They were the days when a driver's wife or girlfriend might wield a stopwatch and when the ability to speak fast was vital in logging 30 or more cars in close succession. At the 1978 Long Beach Grand Prix, organisers appointed 20 local timekeepers for a qualifying session that ended in chaos when the times failed to tally with the team's own records.
"Mistakes could be made which is why today for the official timekeeping you have the transponder because it is an automatic system that identifies the car immediately," said Campiche.
He recalled how he had been able to change Ferrari's grid positions several times under the old method in the 1970s by showing up official errors.
"Four times I knocked on the door of the timing tower...sometimes it was a calculation problem because during the 70s there were no computers," he said.
Tamper-Proof
To provide the data today, each car is equipped with a tamper-proof transponder, a small transmitter that emits a different identifying frequency. The transponders can also register incoming signals, converting them into lights on steering wheels to alert drivers of warnings.
Sensors are in the track at every grid starting position, enabling timekeepers to know instantly whether a car has moved too early. The same technology is used for pit stops.
"At each position where the car has to stop, we are able to detect when the car is stopped and when it re-starts," said Campiche. He says Formula One now has the most precise system of any sport even if it can still throw up surprises.
"If you have Mika Hakkinen in pole position and 1,000th of a second behind you have Michael Schumacher, this 1,000th of a second represents only seven centimeters," explained Campiche.
In 1997, in Jerez, three cars led qualifying with exactly the same time - and the backup system in the timing tower showed no difference. That meant they had all covered 4.4 km with barely a millimeter separating them at the end. The first car to set the time ended up on pole.
"With the transponders we use, this is the most precise application you can have," said Campiche. "Other sports are controlled through a light beam. A car is always the same design but a human is able to change position. You have less precision for all the sports where a human is active."
Published at 10:18:21 GMT
---