Friday November 9th, 2001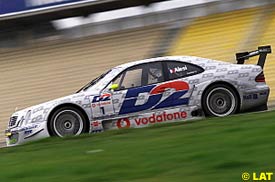 Frenchman Jean Alesi, who retired from Formula One racing after the Japanese Grand Prix last month, said he would definitely drive a racing car next season, but not in the Championship which brought him fame.
"One thing is for sure - I will race next season. I'm just looking for a category," he told sports daily l'Equipe. "But I ... won't be competing in Formula One Grands Prix anymore. For me, it's over," added Alesi, who said he did not rule out working for an F1 team as test driver.
The former Ferrari, Prost and Jordan driver, who tested a DTM car this week in Germany, said he would almost certainly not take a drive in the American CART championship.
"I've 99 percent given up on CART. Honda and Penske are pulling out of this championship which is close to implosion," he said. "What's more, there is no money to be made. And I won't go there for fun. You don't have fun driving at 400 km/h on ovals," he added.
Alesi added he had received offers from Honda to do some test driving for them in Formula One, a proposal he said belied his reputation as a poor technician.
"When you stay 13 years in Formula One, you cannot afford not to be a good adjuster or you get kicked out," he said.
Published at 11:04:43 GMT
---