Thursday November 22nd, 2001
By Francois Thomazeau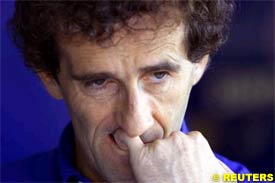 Dubbed "the professor" during his days as one of the greatest drivers in Formula One, four times World Champion Alain Prost seemed set to admit failure as a team principal when Prost Grand Prix went into receivership on Thursday.
The diminutive Frenchman collected 51 Grand Prix wins in a career spanning over 13 seasons, but he found life far more difficult when it came to attracting money to save his ailing Formula One team. Launched in 1997 after he bought Ligier, Prost Grand Prix's record in five seasons looks as appalling as his personal record was impressive.
As a driver, Prost entered 199 Grand Prix and won 51, a record only surpassed by Michael Schumacher this past season. As a team, Prost Grand Prix took part in 83 races and won none, failing to claim even a single pole position. The failure will be seen by many as a personal one for Prost, who had for so long fought for his dream of a fully French team.
He achieved his ambition of becoming a team boss in 1997, when he took over the ailing Ligier team, marking the first step on what he saw as the path to French motor racing glory. The purchase had political connotations too - former team chief Guy Ligier was a close friend of former socialist president Francois Mitterrand, while Prost has always been a supporter of neo-Gaullist president Jacques Chirac.
Promising Start
In the first season, 1997, everything seemed to be going well. Prost had managed to lure the best French driver of the time, Olivier Panis - a winner at Monaco the previous year - to the team. The car was fine, the Peugeot engine looked a good prospect and Prost Grand Prix finished sixth in the Constructor's Championship with 21 points. But after such a promising start, matters went from bad to worse.
Only one point was scored in the 1998 season. There was a slight improvement in 1999 - nine points - but it was merely a temporary reprieve. In 2000, the French team hit rock bottom by finishing last in the World Championship standings with no points. Sponsors left, Peugeot stopped their partnership after a dispute and tensions were reported to be growing in the team garage.
Last season, Prost spent most of his time chasing sponsors in vain.
Strong Character
Rumours of debts estimated at 200 million francs ($30 million) started circulating when Prost failed to turn up at the season-ending Japan Grand Prix and Prost later conceded he needed at least three quarters of that sum from a new sponsor. But he still claimed that he could pay some 80 percent of the bill for the Ferrari engines. That was not to be the case.
For most observers, his failure came ironically from what had made him such a great sports personality - his strong character. Personal disputes and disagreements with staff members and partners climaxed this season when he finally parted company with his old friend Jean Alesi, who scored the team's only four points in 2001 before quitting after receiving a letter from Prost's solicitor.
This left the nominally French team with no French sponsors, no French driver and an Italian engine. Prost's team has not gone bankrupt yet and the International Automobile Federation (FIA) said: "We received their application to participate next season before the 15 November deadline, but we won't be publishing the 2002 entry list until December 1st, as usual."
But while his future has yet to be clarified, no one can deny him his place in the pantheon of great drivers. Prost was World Champion in 1985, 1986, 1989 and 1993 and fans will never forget his memorable duels with arch-rival Ayrton Senna and Nelson Piquet. He joined Formula One with McLaren in 1980 and shone despite a poor car.
The following year he gained his first victory, driving a Renault home in front of French fans at Le Castellet. Later in his career, what he lost in sheer speed he made up for with an great appreciation of tactical driving - a quality in which he was probably unequalled.
Published at 12:47:13 GMT
---