Thursday November 22nd, 2001
By Chrystel Boulet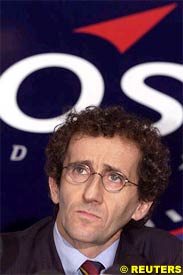 Alain Prost has vowed to fight to keep his Grand Prix team in the 2002 Formula One World Championship despite being placed into receivership by a French court.
"It's not over. Contrary to what I have read, we are not throwing in the towel," he told a news conference at the Prost Grand Prix team's headquarters in Guyancourt, near Paris. "We'll keep fighting for our adventure to continue," the four-times World Champion added.
Prost Grand Prix, which the Formula One star driver launched in 1997 after buying the ailing Ligier team, were placed into receivership for debts which Prost confirmed reached 200 million francs. Judge Franck Michel was named to assist Prost in managing the team for the next six months and to keep Prost Grand Prix in competition.
"There was a court ruling this morning and the administrator's task will be to help me in my attempt to find solutions in the near future," Prost added. The Frenchman, who won 51 races as a driver but whose team have won none in five seasons, said he would be working on a plan to keep it afloat, hopefully with the help of a big sponsor.
Leading Sponsors
"What I'm looking for is to put in place a plan for our continuation. It is out of the question to go bankrupt," he said.
Prost said leading sponsors had failed to invest because he could not offer guarantees that the team would go on for the whole of the 2002 season.
"We intend to freeze our debts and not use a penny from the sponsors or from television rights to repay them," he said, stressing that help from a sponsor would be devoted to running the team for the 2002 season. The uncertain future of Prost Grand Prix was expected to lead current team drivers to look elsewhere but Prost said German Heinz Harald Frentzen was willing to stay.
"He wants to stay and we want to keep him but we must give him guarantees. We hope to do this as quickly as possible", he said.
The Frenchman said the team's financial problems arose in 2000 when sponsors and engine maker Peugeot, who had all signed three-year contracts, withdrew because of poor results.
"From then on we shifted from a situation where the engine was free to a situation where we had to pay," he said.
It was unclear whether Prost Grand Prix were in a position to pay for the V10 engines provided by Ferrari since last season. Prost Grand Prix finished the 2001 championship with a meager four points, all won by France's Jean Alesi, who parted from his old friend and compatriot after a legal wrangle.
Published at 16:46:46 GMT
---