Sunday October 14th, 2001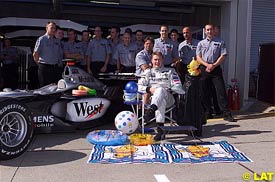 Retiring star Mika Hakkinen was thankful to his McLaren team after the final race of the season before taking a break from Formula One next year.
33-year old Hakkinen, who will be replaced by compatriot Kimi Raikkonen next season at the Woking-based team, decided earlier this year not to race in 2002 in order to spend more time with his family.
The two-time World Champion finished his season with a fourth place at Sunday's Japanese Grand Prix after allowing teammate David Coulthard to take third position in the final laps of the race.
The Finn driver admitted the gesture was to thank the Scot driver for his help in the past, and though he said he will miss Formula One next year, Hakkinen claimed he was looking forward to beginning his break.
"I want to thank everybody who I have worked with for the past nine years for all the effort they put into making my career so successful," said Hakkinen.
"I'm happy that David finished on the podium, and I must admit that by letting him past I wanted to give him something back for the occasions in the past when he has helped me.
"It will take some time to understand my new life and establish whether I enjoy it or not. Right now I'm looking forward to my sabbatical but I'm sure I will also miss Formula One."
Published at 10:04:58 GMT
---