Friday September 14th, 2001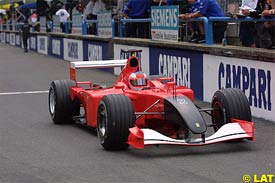 Kimi Raikkonen, fresh from the news that he will move from Sauber to McLaren for next season, crashed out of Friday's first practice for the Italian Grand Prix.
Finn Raikkonen lost the front-right wheel of his Sauber after hitting a barrier at the first chicane. The Sauber driver was unhurt and walked back to the pits as his teammate Nick Heidfeld also crashed out at turn seven to leave Sauber without an undamaged car for the second session.
Ferrari's Michael Schumacher topped the times in the session as his team opted to fit their cars with black nose cones and have no sponsors on their chassis. David Coulthard was second in the times for McLaren, while his teammate Mika Hakkinen was fifth after announcing his break from the sport next year.
Arrows driver Jos Verstappen also suffered a crash early in the session as he slammed his car into a tyre wall at the Curva di Lesmos. He was unable to set a competitive time in the session.
New drivers Tomas Enge and Alex Yoong, for Prost and Minardi respectively, also held their own in the session as they finished 20th and 21st.
Pos  Driver        Team                    Times                 
 1.  M.Schumacher  Ferrari            (B)  1:25.524  243.847 km/h
 2.  Coulthard     Mclaren Mercedes   (B)  1:25.592    +    0.068
 3.  Barrichello   Ferrari            (B)  1:25.728    +    0.204
 4.  Heidfeld      Sauber Petronas    (B)  1:25.740    +    0.216
 5.  Hakkinen      Mclaren Mercedes   (B)  1:26.053    +    0.529
 6.  Button        Benetton Renault   (M)  1:26.197    +    0.673
 7.  Raikkonen     Sauber Petronas    (B)  1:26.701    +    1.177
 8.  R.Schumacher  Williams BMW       (M)  1:26.843    +    1.319
 9.  Trulli        Jordan Honda       (B)  1:27.001    +    1.477
10.  de la Rosa    Jaguar Cosworth    (M)  1:27.066    +    1.542
11.  Panis         BAR Honda          (B)  1:27.259    +    1.735
12.  Fisichella    Benetton Renault   (M)  1:27.276    +    1.752
13.  Irvine        Jaguar Cosworth    (M)  1:27.401    +    1.877
14.  Villeneuve    BAR Honda          (B)  1:27.502    +    1.978
15.  Frentzen      Prost Acer         (M)  1:27.644    +    2.120
16.  Montoya       Williams BMW       (M)  1:27.667    +    2.143
17.  Alesi         Jordan Honda       (B)  1:28.148    +    2.624
18.  Bernoldi      Arrows Asiatech    (B)  1:28.866    +    3.342
19.  Alonso        Minardi European   (M)  1:29.184    +    3.660
20.  Enge          Prost Acer         (M)  1:29.948    +    4.424
21.  Yoong         Minardi European   (M)  1:31.192    +    5.668
22.  Verstappen    Arrows Asiatech    (B)  5:43.120    + 4:17.596

All Timing Unofficial

Published at 09:52:56 GMT
---