Friday September 14th, 2001
By Alan Baldwin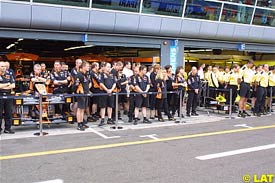 Ferrari's red Formula One cars took to the track in mourning while McLaren pledged money for children of the thousands killed in the U.S.
DaimlerChrysler, parent of team partners Mercedes, have started a $10 million (6.2 million pounds) fund and McLaren said they would donate heavily.
"There is extensive communication through to all the members of the organisation throughout the world and many of them are already pledging either personal income or funding," said McLaren team boss Ron Dennis at the Italian Grand Prix. "That will be supplemented by the TAG McLaren Group.
"There are going to be a lot of kids without parents... The aftermath of this is going to be very much felt by young people."
Dennis said McLaren planned to donate a figure of several hundred thousand dollars. Free practice began at Monza with World Champions Ferrari taking to the track without sponsors' names on their cars or overalls.
Prancing Horse
Even Ferrari's prancing horse symbol was taped over on overalls and the brilliant red cars, usually sponsored by American tobacco brand Marlboro, had a black nose. Many of the sponsors in Formula One had employees in the World Trade Centre towers in New York that collapsed after Tuesday's attack.
All teams and drivers joined in a minute's silence at noon, engines turned off and team members standing respectfully in the pits. Sunday's race has been given the go-ahead but considerable doubts surround the following Grand Prix at Indianapolis in America two weeks later despite official word that it remained on.
Formula One officials have said that the show must go on but that attitude has also divided the paddock.
"Life does go on but there are some moments when life should not go on as usual, as a mark of respect," said one team member.
Dennis said it was still too early to make a decision on Indianapolis and suggested the climate might make the race an impossibility.
"Whatever happens, there is in my opinion going to be a response," he said, referring to the U.S. government's reaction. "I believe that response will heighten the necessity for security throughout the world and as that security tightens then it will lessen the ability practically and morally for us to have a race.
"We are a World Championship, we are not in any way callous. We are emotional people," he added. "But the important thing is to always base your positions on fact on an understanding of what the right thing is to do and not just knee-jerk into what could be an inappropriate position.
"I don't believe stopping the world is the right approach but there is an appropriate approach and I don't feel particularly qualified at this point to have a point of view."
Published at 11:06:42 GMT
---