Saturday September 15th, 2001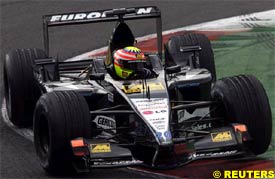 Malaysian Alex Yoong qualified for his first Formula One race on Saturday by sharing a spare car with his Minardi teammate.
Yoong and Spaniard Fernando Alonso both suffered gearbox problems on their opening runs in qualifying for Sunday's Italian Grand Prix and had to take turns in the spare during the one-hour session.
"It was very difficult because the car wasn't perfect and we didn't have any running time this morning," said Yoong. "I didn't feel I could push 100 percent as I knew I had to bring the car back in one piece to give Fernando a good chance to improve his qualifying position.
"It was tricky but I have now qualified for tomorrow's race and I'm just happy for that."
Yoong, who is Malaysia's first Formula One driver, qualified last of the field of 22. Alonso was 21st.
"Losing this morning's two practice sessions with gearbox problems and then having both cars expire soon after leaving the pit lane at the beginning of qualifying was a situation that could not have put drivers or mechanics under more pressure," said team boss Paul Stoddart.
"All concerned more than rose to the occasion."
Published at 17:25:58 GMT
---