Friday February 22nd, 2002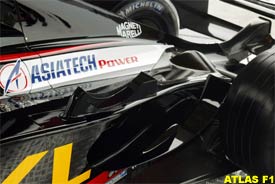 Minardi are delighted with the new Asiatech engine that will power their cars in the 2002 season, according to the team's technical director Gabriele Tredozi.
"We are extremely pleased with the way the new car and engine package has come together," said Tredozi. "The Asiatech engine is very good - compact with a low centre of gravity - and that really helped us when it came to packaging the back end of the car since it gave the designers a little more room with which to work.
"We feel we have taken a big step forward technically with the 2002 Minardi and the Asiatech engine has been a key component in allowing us to make that progress."
Minardi used three-year old Ford engines last season, but clinched the Asiatech deal towards the end of the year after Arrows announced they would be using Cosworth units in 2002. According to the team, the new Asiatech AT02 engine is lighter, more efficient, more compact and capable of producing higher power outputs than the engine it replaces.
"The new KL Minardi-Asiatech PS02 is the result of a close collaboration between the technical staffs of the two organisations and, so far, we are very satisfied with the outcome," said Asiatech president John Gano.
"This is only the first step in a year-long campaign, however, and we now look forward to building on the relationship with our colleagues at Minardi in order to ensure a positive and productive 2002 season that will help boost both companies to stronger, more competitive positions within the Formula One hierarchy."
Published at 13:06:05 GMT
---