Friday January 4th, 2002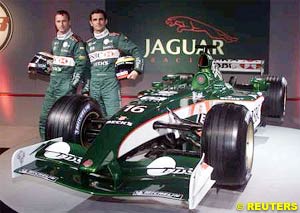 In a ceremony held at their Milton Keynes base in England, the Jaguar Racing team became on Friday the third Formula One team to launch their car for the 2002 season, unveiling their Cosworth-powered R3 only after Toyota and British American Racing, who launched their cars in December.
The Ford-owned team, who made their Formula One debut in 2000 after taking over from Stewart, finished in eighth place in the Constructors' Championship last year, scoring their first podium in Monaco but failing to show big improvements compared to their debut season.
Irishman Eddie Irvine and Spaniard Pedro de la Rosa will continue to form their drivers line-up in the 2002 season, with three-time World Champion Niki Lauda still at the helm of the team after replacing American Bobby Rahal during the past season.
"The Jaguar R3 has been conceived with the aim of achieving outstanding aerodynamic efficiency," Lauda said. "We have not compromised the more traditional race car attributes of low weight, low centre of gravity and good torsional stiffness. Its distinctive high-nose shape is the result of considerable wind tunnel research and the innovative use of laminates and construction methods.
"I'm confident we've made a real step forward with the R3."In a few days time, our drivers Eddie Irvine and Pedro de la Rosa will take R3 to the track in Barcelona for what promises to be a very exciting day for the team."
The R3, the third car produced by the Milton Keynes-based outfit, has been developed under the supervision of technical director Steve Nichols, and designed by chief designer John Russell and chief aerodynamicist Mark Handford. The car will be powered by the same Cosworth engine used by the Arrows team.
"This year, our target has been simple: to make the car go as fast as possible," said Nichols. "That sounds obvious, and it is, but what I mean is that we've been more adventurous in our design philosophy this time. I guess we've concentrated on aerodynamics because we feel we were a little behind the game, aerodynamically, in 2001.
"Do not misunderstand me: we have some very good aero people at Jaguar Racing, but they have been hindered by the fact that our wind tunnel has been located in California all this time. Now that we have taken steps to rectify that situation, our whole operation will become easier and on par with how our competition operates."
Jaguar will now travel to Barcelona to start testing the new car next Monday in the first testing session of the year.
Published at 11:18:47 GMT
---