Sunday January 13th, 2002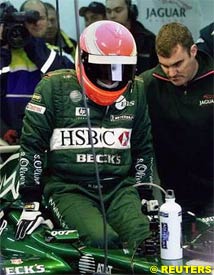 Jaguar team boss Niki Lauda was left in a spin as he drove a single-seater Formula One car for the first time in 17 years in Valencia, Spain on Sunday - as his Jaguar R2 was towed back to the pits after he suffered two spins in his first three laps.
The 52-year-old Austrian returned to the cockpit for the specially-arranged test in a bid to understand the car and make vital improvements to the new Jaguar R3 but spun on the exit of the tight turn 2 of the Circuit Ricardo Tormo.
"My intention for this test was to understand the technology of the car; launch control, traction control and engine behavior," Lauda said. "I found out everything I wanted to know. Compared to my day it is all very different. Now you keep both hands on the steering wheel!"
Lauda said that he had taken the advice of current Jaguar driver, Spaniard Pedro de la Rosa, before he went out on track.
"I spun a couple of times, only because Pedro told me where to brake - I was brave enough to try that," Lauda joked. "I was told (by the engineers) I went into the corner as quick as Pedro, the difference is I didn't make the corner! I spun but at least I achieved the same speed and showed my drivers I am trying, otherwise they will not speak to me."
Lauda criticised the role of a Grand Prix driver last year, claiming that monkeys could drive the cars with traction control and other electronic aids. But Lauda was forced to take his words back after he admitted he was surprised by the smoothness of the modern Formula One car.
"The launch control was unbelievable. Yes, I have said that any monkey can drive a car nowadays, but I am simply comparing it to the driving 17 years ago. In those days you had manual gears, normal clutch, no anti-stall etc. and had to take care of wheel spin as you started. It is now a lot easier to start.
"Now I know what words like launch control, traction control, engine braking and brake balance mean. I can follow meetings better. When I was listening before, the software-related problems I didn't understand, now I will be able to."
But despite enjoying his re-introduction to Formula One, Lauda, who was some 15 seconds off the pace, conceded that he would not be making another comeback into Grand Prix racing.
"I will not make this a regular appearance. If I want to make it regular I have to train and I am not prepared to do that. For this test I didn't train, I just smoked less!"
Published at 11:44:29 GMT
---