Monday January 28th, 2002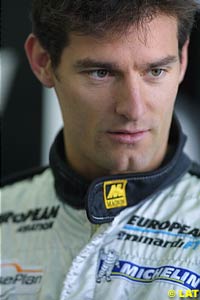 Minardi announced this evening that Australian Mark Webber has signed to drive for the team in 2002.
The 25-year-old, from Queanbeyan, New South Wales, joins Malaysia's Alex Yoong, and renews an association with Team Principal, Paul Stoddart, that began during the 2000 season, when he drove for European Formula Racing in the FIA International F3000 Championship. Webber has already tested twice for Minardi during the last three weeks.
"Entering Formula One is obviously a fantastic stage of my career - it's what the last seven years has been all about," said Webber, as the news broke. "Now the hard work really begins, though, and to start this new chapter with someone like Paul - with whom I've worked in the past and know to be both very determined and committed to taking KL Minardi Asiatech to a new level - is a fantastic opportunity. I simply can't wait to get under way."
Commenting on Webber's signing, Paul Stoddart said: "Last year, arriving in Melbourne for the first time with the European Minardi team, was a proud and emotional moment for all of us. This year, with two great young competitors joining KL Minardi Asiatech - Australia's Mark Webber, and Alex Yoong, Malaysia's first-ever Grand Prix driver - we're going to feel doubly proud.
"It's also a very different Minardi team that will arrive in Australia this year. It is better prepared in all respects, and boasts a new title sponsor, 'Go KL', a new engine partner, Asiatech, and highly encouraging aerodynamic results from two intensive wind tunnel programmes. We firmly believe the team is on course to take its first important step up the Formula One grid."
Webber becomes the first Australian to compete at the top level of motor racing since 1994, and the first Australian to drive for an Australian-owned team since Tim Schenken drove for Brabham in 1971.
Published at 20:48:16 GMT
---