Friday March 1st, 2002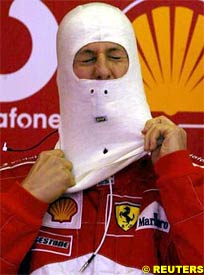 Michael Schumacher topped the time sheets of the first session of the new Formula One season on Friday morning, when he outpaced his Ferrari teammate Rubens Barrichello in the first practice for Sunday's Australian Grand Prix.
The quadruple World Champion, using his 2001 car, showed no ill-effects from his winter's rest or any lack of motivation as he worked throughout the session in imperious fashion at the front of the field. He ended up with a best time of 1:28.804 seconds to pip his Brazilian partner by three-tenths of a second.
But Schumacher, cheered by a large following of local Ferrari fans inside Melbourne's Albert Park circuit, was not the only hero, as Scot Allan McNish, making his long delayed Formula One debut at the age of 32, was first out of the pitlane in the morning ahead of his Toyota teammate Mika Salo. For McNish, it was an historic moment and one he relished as he steered his car sensibly through his first session among the big boys to wind up 14th at end of the opening hour.
The session began in damp conditions with light drizzle, but ended in warm sunshine as the weather improved.
Giancarlo Fisichella in a Jordan was third-fastest behind the two Ferraris, ahead of Ralf Schumacher in a Williams-BMW with new boy Brazilian Felipe Massa, in a Sauber, fifth and Pedro de la Rosa sixth for Jaguar.
The session was relatively incident-free, except for a few spins and off-track excursions involving de la Rosa, the young Malyasian Alex Yoong in his Minardi and another debutant, Mark Webber of Australia, in the other Minardi.
David Coulthard, touted as a top Championship contender this season for McLaren Mercedes, was only 20th, while his new teammate Kimi Raikkonen, recruited from Sauber last year, was 17th.
Pos  Driver        Team                    Times                 
 1.  M.Schumacher  Ferrari            (B)  1:28.804  214.977 km/h
 2.  Barrichello   Ferrari            (B)  1:29.167    +    0.363
 3.  Fisichella    Jordan Honda       (B)  1:31.693    +    2.889
 4.  R.Schumacher  Williams BMW       (M)  1:31.723    +    2.919
 5.  Massa         Sauber Petronas    (B)  1:31.957    +    3.153
 6.  de la Rosa    Jaguar Cosworth    (M)  1:32.179    +    3.375
 7.  Irvine        Jaguar Cosworth    (M)  1:32.285    +    3.481
 8.  Frentzen      Arrows Cosworth    (B)  1:32.465    +    3.661
 9.  Salo          Toyota             (M)  1:32.602    +    3.798
10.  Button        Renault            (M)  1:32.667    +    3.863
11.  Montoya       Williams BMW       (M)  1:32.903    +    4.099
12.  Sato          Jordan Honda       (B)  1:32.904    +    4.100
13.  Bernoldi      Arrows Cosworth    (B)  1:32.912    +    4.108
14.  McNish        Toyota             (M)  1:33.352    +    4.548
15.  Villeneuve    BAR Honda          (B)  1:33.447    +    4.643
16.  Trulli        Renault            (M)  1:33.591    +    4.787
17.  Raikkonen     McLaren Mercedes   (M)  1:34.756    +    5.952
18.  Webber        Minardi Asiatech   (M)  1:35.976    +    7.172
19.  Heidfeld      Sauber Petronas    (B)  1:37.303    +    8.499
20.  Coulthard     McLaren Mercedes   (M)  1:37.834    +    9.030
21.  Panis         BAR Honda          (B)  1:40.684    +   11.880
22.  Yoong         Minardi Asiatech   (M)  1:44.011    +   15.207

All Timing Unofficial

Published at 01:07:45 GMT
---