Friday March 1st, 2002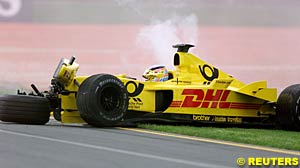 Japanese new boy Takuma Sato instigated the first red flag during the season-opening Australian Grand Prix on Saturday morning when he slid off and crashed heavily after half an hour of the first free practice session. Sato, 25, was unhurt in the shunt which left the right front corner of his car seriously damaged.
The session was led by the two Ferraris, as Rubens Barrichello and Michael Schumacher, in turn, clocked the fastest times ever round the Albert Park circuit. Both were well inside last year's pole time and established the Italian team as the outfit to beat this year again.
The session was run in cool and damp conditions. Pedro de la Rosa in his Jaguar and Mark Webber in his Minardi had both survived off-track excursions when Sato went off at high speed, the car spinning backwards and colliding with the barriers. The front right wheel was damaged, but did not break free from the car.
"He is alright," said team chief Eddie Jordan. "Thankfully. It is difficult with a new boy and we need to build up his confidence. He is going to have a long wait now until qualifying and we need to help him a bit.
"It is a good thing the wheel did not come loose and fly off. It shows the new rules for improved wheel tethering have worked now. But it is always unfortunate when this kind of thing happens so early in the weekend."
The session was red flagged and stopped for nine minutes following Sato's accident and, afterwards, the two Ferrari drivers traded their rapid laps to establish the team's massive early superiority over their rivals with their 'old' 2001 cars.
The two McLaren Mercedes-Benz drivers were next followed by the two Williams-BMWs showing that early season predictions of a scrap between the established 'big three' teams looked to be accurate again.
Pos  Driver        Team                    Times                 
 1.  M.Schumacher  Ferrari            (B)  1:26.177  221.530 km/h
 2.  Barrichello   Ferrari            (B)  1:26.498    +    0.321
 3.  Coulthard     McLaren Mercedes   (M)  1:27.505    +    1.328
 4.  Raikkonen     McLaren Mercedes   (M)  1:27.818    +    1.641
 5.  R.Schumacher  Williams BMW       (M)  1:28.262    +    2.085
 6.  Montoya       Williams BMW       (M)  1:28.278    +    2.101
 7.  Panis         BAR Honda          (B)  1:28.570    +    2.393
 8.  Heidfeld      Sauber Petronas    (B)  1:28.579    +    2.402
 9.  Massa         Sauber Petronas    (B)  1:28.700    +    2.523
10.  Trulli        Renault            (M)  1:28.773    +    2.596
11.  Button        Renault            (M)  1:28.881    +    2.704
12.  Fisichella    Jordan Honda       (B)  1:28.883    +    2.706
13.  Villeneuve    BAR Honda          (B)  1:29.042    +    2.865
14.  Frentzen      Arrows Cosworth    (B)  1:29.174    +    2.997
15.  Bernoldi      Arrows Cosworth    (B)  1:29.724    +    3.547
16.  Salo          Toyota             (M)  1:30.100    +    3.923
17.  McNish        Toyota             (M)  1:30.179    +    4.002
18.  Sato          Jordan Honda       (B)  1:30.914    +    4.737
19.  Webber        Minardi Asiatech   (M)  1:31.203    +    5.026
20.  de la Rosa    Jaguar Cosworth    (M)  1:31.286    +    5.109
21.  Irvine        Jaguar Cosworth    (M)  1:31.411    +    5.234
22.  Yoong         Minardi Asiatech   (M)  1:33.425    +    7.248

All Timing Unofficial

Published at 23:00:27 GMT
---