Friday March 29th, 2002
By Will Gray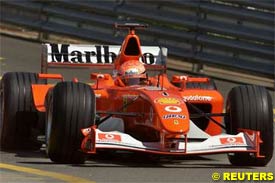 Michael Schumacher led a family one-two in the first practice session for Sunday's Brazilian Grand Prix on Friday morning after Kimi Raikkonen stopped the session following a spin in his McLaren.
Schumacher, driving the new Ferrari, finished more than a second faster than his brother Ralf, in a Williams-BMW, as the temperatures rose above 30 degrees at a sun-drenched Interlagos circuit just outside Sao Paulo.
Giancarlo Fisichella finished third in his Jordan-Honda, ahead of the Sauber pairing of Nick Heidfeld and new home hero Felipe Massa, in fourth and fifth, and Brazilian Enrique Bernoldi, in the Arrows, in sixth.
Jenson Button was the fastest of the two Renault drivers, finishing seventh, with Takuma Sato eighth in the second Jordan-Honda, Juan Pablo Montoya ninth for Williams-BMW, and Heinz-Harald Frentzen making Arrows's day with tenth.
The session was a disaster for McLaren as their spinning cars caused the session to be stopped half-way though after Raikkonen stalled his car at the Descida do Sol and teammate David Coulthard spun off into a border of flowers on the edge of the Brazilian circuit.
The marshals could not move Raikkonen's stricken car to a safe place beside the track and the session was red flagged.
Immediately after the seven-minute break, there was more misery for unfortunate Barrichello, who has failed to finish in all of the last seven races at Interlagos.
He ended up on the bottom of the time sheets after being forced to return to the pits on foot when a spin at turn nine left his Ferrari stranded. His teammate Schumacher was more fortunate and recovered from his spin.
Bernoldi and Minardi's Alex Yoong both had minor off-track excursions at turn eight but were able to continue and return to the pits, but Sato was not so fortunate as he spun his Jordan at turn four at the end of the session
Pos  Driver        Team                    Times                 
 1.  M.Schumacher  Ferrari            (B)  1:15.627  205.117 km/h
 2.  R.Schumacher  Williams BMW       (M)  1:16.645    +    1.018
 3.  Fisichella    Jordan Honda       (B)  1:16.770    +    1.143
 4.  Heidfeld      Sauber Petronas    (B)  1:17.018    +    1.391
 5.  Massa         Sauber Petronas    (B)  1:17.081    +    1.454
 6.  Bernoldi      Arrows Cosworth    (B)  1:17.327    +    1.700
 7.  Button        Renault            (M)  1:17.522    +    1.895
 8.  Sato          Jordan Honda       (B)  1:17.624    +    1.997
 9.  Montoya       Williams BMW       (M)  1:17.661    +    2.034
10.  Frentzen      Arrows Cosworth    (B)  1:17.717    +    2.090
11.  Coulthard     McLaren Mercedes   (M)  1:17.721    +    2.094
12.  Trulli        Renault            (M)  1:17.979    +    2.352
13.  Villeneuve    BAR Honda          (B)  1:18.121    +    2.494
14.  McNish        Toyota             (M)  1:18.128    +    2.501
15.  de la Rosa    Jaguar Cosworth    (M)  1:18.171    +    2.544
16.  Panis         BAR Honda          (B)  1:18.237    +    2.610
17.  Salo          Toyota             (M)  1:18.280    +    2.653
18.  Irvine        Jaguar Cosworth    (M)  1:18.318    +    2.691
19.  Raikkonen     McLaren Mercedes   (M)  1:19.247    +    3.620
20.  Webber        Minardi Asiatech   (M)  1:19.320    +    3.693
21.  Yoong         Minardi Asiatech   (M)  1:22.192    +    6.565
22.  Barrichello   Ferrari            (B) 32:02.755    +30:47.128

All Timing Unofficial

Published at 15:09:42 GMT
---