Saturday March 30th, 2002
By Will Gray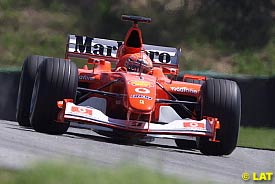 Michael Schumacher returned to the top of the times at Interlagos on Saturday morning as he dismissed the McLaren resurgence in rising temperatures during the first practice session before qualifying for the Brazilian Grand Prix.
World Champion Schumacher set the fastest time of the weekend with a 1:13.837 lap, just less than six hundredths of a second slower than his pole position time from last year.
The German, in a new F2002, held the top position through most of the session and after being deposed by Kimi Raikkonen's McLaren seconds before the finish he set another fastest time to return to the top.
Rubens Barrichello, in the old Ferrari, was three and a half tenths slower than his teammate Schumacher in third, with Ralf Schumacher claiming fourth fastest time for Williams.
David Coulthard's performance for McLaren on Friday, in which he set the fastest time of the day, was rapidly forgotten as the Scot dropped to fifth, with Juan Pablo Montoya sixth to ensure the Ferrari, McLaren and Williams cars locked out the top of the times.
Jenson Button was seventh and, as is becoming expected, the fastest of the other teams in his Renault, while the Sauber duo followed behind, with Nick Heidfeld eighth and Felipe Massa ninth, and Jacques Villeneuve completed the top ten for BAR.
There was little incident in the session, with Jordan's Takuma Sato and Arrows' Enrique Bernoldi the only spinners, but Brazilian Bernoldi was fortunate to miss the wall when he spun at turn four.
Pos  Driver        Team                    Times                 
 1.  M.Schumacher  Ferrari            (B)  1:13.837  210.090 km/h
 2.  Raikkonen     McLaren Mercedes   (M)  1:13.900    +    0.063
 3.  Barrichello   Ferrari            (B)  1:14.189    +    0.352
 4.  R.Schumacher  Williams BMW       (M)  1:14.642    +    0.805
 5.  Coulthard     McLaren Mercedes   (M)  1:14.673    +    0.836
 6.  Montoya       Williams BMW       (M)  1:14.857    +    1.020
 7.  Button        Renault            (M)  1:15.014    +    1.177
 8.  Heidfeld      Sauber Petronas    (B)  1:15.179    +    1.342
 9.  Massa         Sauber Petronas    (B)  1:15.296    +    1.459
10.  Villeneuve    BAR Honda          (B)  1:15.303    +    1.466
11.  Trulli        Renault            (M)  1:15.340    +    1.503
12.  Panis         BAR Honda          (B)  1:15.447    +    1.610
13.  Fisichella    Jordan Honda       (B)  1:15.486    +    1.649
14.  Sato          Jordan Honda       (B)  1:15.641    +    1.804
15.  Frentzen      Arrows Cosworth    (B)  1:15.940    +    2.103
16.  Bernoldi      Arrows Cosworth    (B)  1:16.101    +    2.264
17.  de la Rosa    Jaguar Cosworth    (M)  1:16.447    +    2.610
18.  Irvine        Jaguar Cosworth    (M)  1:16.516    +    2.679
19.  Salo          Toyota             (M)  1:16.526    +    2.689
20.  McNish        Toyota             (M)  1:16.721    +    2.884
21.  Webber        Minardi Asiatech   (M)  1:17.071    +    3.234
22.  Yoong         Minardi Asiatech   (M)  1:17.574    +    3.737

All Timing Unofficial

Published at 12:48:54 GMT
---