Saturday March 30th, 2002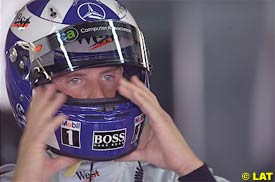 David Coulthard is confident of a better performance from his McLaren in tomorrow's Brazilian Grand Prix after finishing today's qualifying nearly half a second off pole position.
"At the moment today's positions are as good as we could have hoped for," said the Scot after setting the fourth fastest time. "I believe we will be faster in the race, as I was reasonably happy with the balance when we were running with heavy fuel loads during practice.
"As last year's Brazilian Grand Prix showed anything can happen."
Coulthard won the race last season after the rain hit the Interlagos circuit, and will be hoping to at least cross the finish line after two pointless races so far this year.
The Scot was today capable of outqualifying his teammate Kimi Raikkonen, who finished right behind him in fifth place. The Finn was forced to switch to the spare McLaren right after the start of the session after his race car suffered a mechanical problem.
"An eventful qualifying where I experienced some difficulties," he said. "It's a pity because I think I could have achieved a better time. Under the circumstances I'm satisfied with the result and aim for a competitive race tomorrow."
Published at 19:16:20 GMT
---