Sunday March 31st, 2002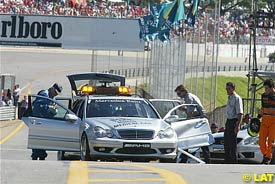 Sauber driver Nick Heidfeld collided with the medical car during Sunday's warm-up for the Brazilian Grand Prix trying to avoid the crashed Arrows car of Enrique Bernoldi as Michael Schumacher topped the times.
Bernoldi escaped unhurt from a major crash between the first and second corners at the tricky Interlagos track, and as the rear of his car erupted in flames the FIA medical car was rapidly on the scene.
However, Heidfeld appeared to have not seen any warning and was forced to cut to the inside of the corner to avoid hitting the Arrows wreck, but ended up smashing into the opened left-hand side door of the official Mercedes car which had opened as the officials rushed to the assistance of Bernoldi.
"I didn't see any yellow flags," Heidfeld said. "I suddenly had a car in front of me and nowhere to go. There is quite a lot of damage on my car but I think it will be okay for the race."
The session finished with Michael Schumacher at the top of the times as his Ferrari team benefited of cooler conditions to perform well in the final preparation session.
Schumacher, driving the new Ferrari, was beaten to pole position by the Williams-BMW of Juan Pablo Montoya on Saturday as the Michelin tyres out-performed the Bridgestones in qualifying.
But with track temperatures on Sunday morning some 20 degrees lower than were seen on Saturday afternoon, it was Bridgestone's top team which had the upper hand.
Pedro de la Rosa was second fastest for Jaguar, with McLaren's Kimi Raikkonen third ahead of the fourth-placed Williams of Ralf Schumacher, who will start the race from third on the grid.
Pole man Juan Pablo Montoya was fifth in the second Williams-BMW with home hero Rubens Barrichello sixth as he continued to struggle with the under-performing old Ferrari.
David Coulthard, desperate to get points on the board this weekend after two failures to finish in the first two races, finished seventh in the second McLaren, one place ahead of Arrows driver Heinz-Harald Frentzen.
Allan McNish was ninth for Toyota, and Bernoldi was tenth with a time he set before his crash. His car was wrecked in the incident, but he was able to get out safely despite wiping out the rear right hand side of his car in the impact.
Pos  Driver        Team                    Times                 
 1.  M.Schumacher  Ferrari            (B)  1:15.866  204.471 km/h
 2.  de la Rosa    Jaguar Cosworth    (M)  1:16.391    +    0.525
 3.  Raikkonen     McLaren Mercedes   (M)  1:16.543    +    0.677
 4.  R.Schumacher  Williams BMW       (M)  1:16.558    +    0.692
 5.  Montoya       Williams BMW       (M)  1:16.608    +    0.742
 6.  Barrichello   Ferrari            (B)  1:16.666    +    0.800
 7.  Coulthard     McLaren Mercedes   (M)  1:16.679    +    0.813
 8.  Frentzen      Arrows Cosworth    (B)  1:17.007    +    1.141
 9.  McNish        Toyota             (M)  1:17.222    +    1.356
10.  Bernoldi      Arrows Cosworth    (B)  1:17.290    +    1.424
11.  Button        Renault            (M)  1:17.361    +    1.495
12.  Massa         Sauber Petronas    (B)  1:17.371    +    1.505
13.  Heidfeld      Sauber Petronas    (B)  1:17.412    +    1.546
14.  Panis         BAR Honda          (B)  1:17.482    +    1.616
15.  Irvine        Jaguar Cosworth    (M)  1:17.496    +    1.630
16.  Trulli        Renault            (M)  1:17.676    +    1.810
17.  Villeneuve    BAR Honda          (B)  1:17.676    +    1.810
18.  Salo          Toyota             (M)  1:17.994    +    2.128
19.  Fisichella    Jordan Honda       (B)  1:18.007    +    2.141
20.  Yoong         Minardi Asiatech   (M)  1:18.569    +    2.703
21.  Webber        Minardi Asiatech   (M)  1:19.034    +    3.168
22.  Sato          Jordan Honda       (B)  1:19.071    +    3.205

All Timing Unofficial

Published at 13:22:05 GMT
---